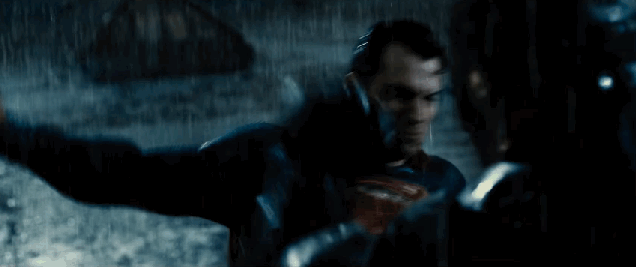 Batman Vs. (I'm not calling it V) Superman is a buffet of a movie full of tasty morsels, exciting from a distance, bloated with too many ingredients and ultimately leaves you wanting a more elegant meal with one purpose that it achieves well. This is a film that relies on making money off bringing together two iconic characters but struggles to stay true to what those characters so beloved.
Continuing the cynical navel gazing of Man of Steel, this originally intended sequel opens with the best sequence of the whole movie showing the battle between Superman (Henry Cavill) and General Zod in Metropolis from the perspective of Bruce Wayne as he makes his way to the local Wayne Enterprises building using all his skills to get out of the way of the large scale destruction and rescue people but ultimately being powerless to intervene against these super beings and what they reap. Batman (Ben Affleck) here is a 20 year veteran of fighting crime, more bitter and haunted than previous onscreen iterations and his rapport with Alfred Pennyworth (Jeremy Irons) who acts as his nagging aunt, trusted counsel and armourer are some of the best bits of the film. We want to see more of this in a stand-alone Batman film and that is saying a lot after 8 previous films featuring these characters with very talented actors previously inhabiting them.
Bruce Wayne sees the threat of super beings and investigates finding a way to stop them which brings him into the sphere of Lex Luthor who is also involved with the U.S. Government in studying the Kryptonians. Superman meanwhile comes more and more under trial by the media and government as his presence shakes mankind's standing in the universe. There were probably very good ideas to be mined here but Superman ultimately doesn't stand for something and declare what he will do. A montage of saving people is delivered joylessly. Fans of Christopher Reeve's characterisation will weep at the mopeyness of Kal-El here. Of course they'll fear you, show them they have nothing to fear, you're Superman for fuck's sake. Amy Adams as Lois Lane subtly conveys that she is the biggest anchor for Clark's humanity but their conversations ultimately go nowhere and come across as lazy writing. The film feels like a series of impressive set pieces in amongst these mopey dialogue exchanges. Jesse Eisenberg's portrayal of Lex Luthor, already a source of contention, is at least swinging for the fences. His motivation remains under explained given how much Luthor risks but he is bat shit crazy although a more underplayed performance would have better sold how he could manipulate Wayne and Kent who are investigators in their work after all.
Visually Snyder has always been a strong director and it continues here. The world might be dark and murky but it is effectively epic and operatic with the final fight almost looking like a medieval fantasy showdown. The film falls down with too many plot holes and lazy conveniences where characters make poor decisions that insult our and their intelligence. For example Lois Lane has a good heart but she puts herself in danger a lot in this movie and it would have been nice if just once she had been given more agency in the story.
Warner Bros is coming off a few box office misfires and is a take-over target. They needed this to be a hit and to set up the other films already in production of the DCMU. That is a lot of pressure to put on one film and it is kind of admirable how they've done it with reckless abandonment in this film. Wonder Woman (Gal Gadot) for example isn't really needed in this movie that already has a lot of plates spinning but she is a welcome addition. Remaining an enigmatic character throughout, Gadot spars well with Affleck in one scene and sells the warrior aspect of the character in her action scenes increasing interest for her upcoming solo movie. A clunky introduction to other Justice League characters is badly timed in the narrative of the movie but by not explaining everything the filmmakers kind of leave one intrigued. That is probably the best thing you can say about Batman Vs. Superman, it makes you hopeful and interested in what is to come even if not fully satisfied with what it is as a film in and of itself.
-Lloyd Marken
PLEASE NOTE: A LONGER, MORE COLOURFUL, SPOILER FILLED REVIEW OF MINE CAN BE FOUND HERE.